WHO Racing has been hosting Scalextric Digital events at the Barn since January 2014.
We use the RCS64 digital race management system, which features realistic fuel consumption, tyre wear, pit stops and overtaking.
We use this amazing software to create a variety of different race formats - many of them based on real-world motor sport series and events. The learning curve can be steep, but is worth it.
To get a flavour of WHO/digital racing, we highly recommend attending one of our Nascar & Legends Wednesday evenings, before moving on to the other events.
Each year we produce a 22-page pdf guide to everything you need to know about our digital racing. You can download the current season's guide from this page..
Doors open 6.30pm or 10am for Saturday events.
Evening races cost £3 for adults and £2 for under-16s.
For Saturday events, the entry fee is £6 adults and £4 under-16s for a full day's racing.
All equipment is provided for the Nascar & Legends evenings.
Go on, you know you want to - give digital a go!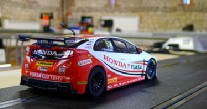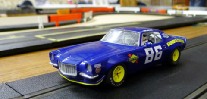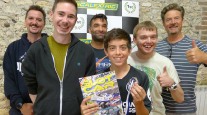 Check out some of our WHO/digital partners:


2024 season page click here
2023 season page click here
2020-22 season page click here
2019 season page click here
2018 season page click here
2017 season page click here
2016 season page click here
2014 & 2015 page click here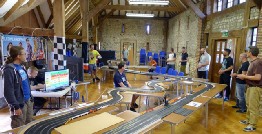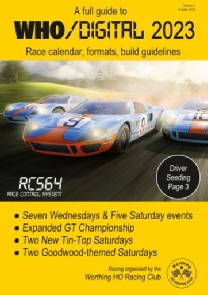 - Click on the image to launch the pdf -
Wednesday 18 January: Nascar & Legends
Wednesday 15 February: Nascar & Legends
Wednesday 15 March: Nascar & Legends
Wednesday 19 April: Nascar & Legends
Wednesday 17 May: GT Championship
Saturday 24 June: GT Championship
Wednesday 19 July: GT Championship
Wednesday 16 August: GT Championship
Saturday 23 September: Goodwood Revival
Saturday 14 October: Birkett Relay
Saturday 18 November: Tin Top Saturday
Saturday 16 December: Tin Top Saturday